If you work early in the morning, then chances are you visit Starbucks on your way to the office.
These days, Starbucks has become a paradise for caffeine addicts, who frequent the establishment for its range of delicious coffees and teas.
However, this does not mean that Starbucks is only open to coffee drinkers. In fact, the company also produces a wide range of caffeine-free drinks, which focus more on sweetness rather than stimulation.
And while the notion of caffeine-free drinks may offend some people, cutting the stimulant from your diet can have a profound impact on your physical and mental health.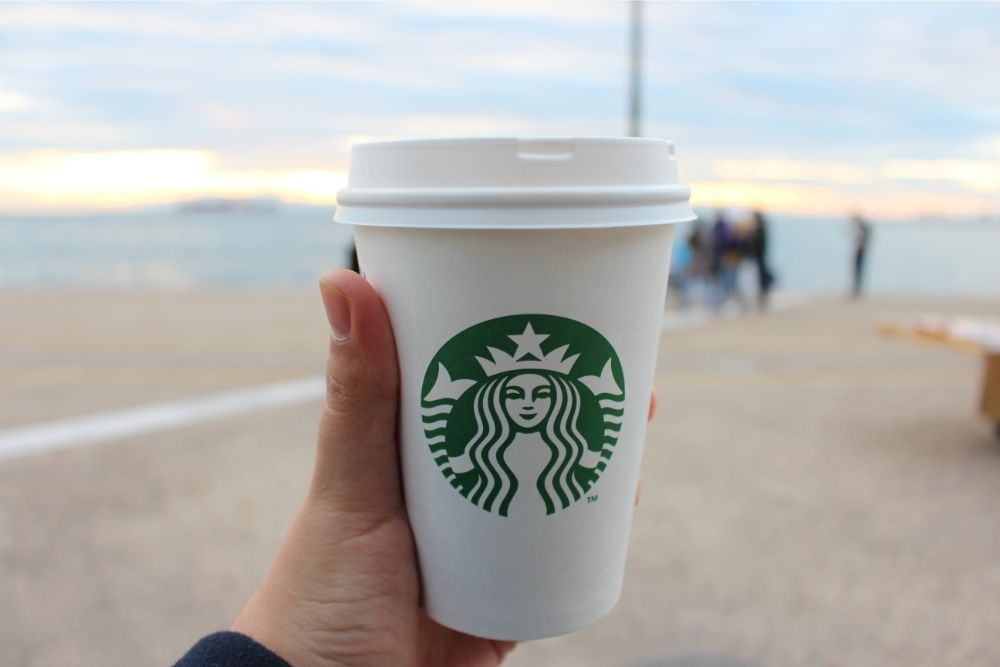 So if you have found yourself in a position where you can no longer enjoy a cup of coffee, then we have everything you need to find the perfect morning beverage.
In the following article, we have compiled a list of the 21 best caffeine-free drinks at Starbucks, which we have ranked by popularity.
We have also included a detailed overview of each beverage, which outlines its ingredients and how it could pertain to your preferences.
So why not take a look at our list and see which one catches your eye, we promise you won't be disappointed with the results…
Overview
If you are in a rush and don't have time to read the entire article, then we have provided a condensed list in the section below:
Steamed apple juice
Vanilla creme
Caramel ribbon crunch creme frappuccino
Iced passion tango tea
Strawberry creme frappuccino
Hot chocolate
Mint majesty
Caramel apple spice
Cinnamon dolce creme
Vanilla bean creme frappuccino
Peach tranquillity
Iced passion tango tea lemonade
Iced guava passion fruit drink
White chocolate creme frappuccino
Pistachio creme frappuccino
Lemonade
Blended strawberry lemonade
Bottled fruit juice
Milk
Flavored sparkling water
Water
While each drink is delicious in its own way, there are some beverages that are better than others.
For example, if you want a caffeine-free drink that is also low sugar, then you will love the iced passion tango tea.
However, if you want something a little more indulgent, then the vanilla or caramel ribbon crunch frappuccinos are also a delicious choice.
On the other hand, the steamed apple juice still remains one of the company's most popular beverages, especially among people who prefer hot and non-dairy products.
If you want to know more about each drink on our list, then you will find a more detailed description in the following sections:
Steamed Apple Juice
For the first drink on our list, we have the ever-popular steamed apple juice, which remains a permanent fixture on the Starbucks menu.
And while this drink may not sound like the most exciting coffee alternative, it makes up for its shortcomings with an intense and fruity flavor, which calls to mind warm autumnal cider.
While this drink remains one of the most popular caffeine-free beverages at Starbucks, it is also possible to purchase another variation with a spicy twist.
This drink (which we will discuss later) takes the same basic concept and combines it with caramel sauce and cinnamon, resulting in a sweet and heady beverage that can be topped with whipped cream and syrup.
However, if you want something warm and low sugar, then the original recipe is always the best option.
Vanilla Creme
The next drink on our list is very similar to a vanilla latte, except the espresso has been removed to produce a drink that is completely caffeine-free.
Bursting with sinful goodness, this beverage combines rich vanilla syrup and steamed milk to create an indulgent drink that tastes even better once it has been topped with whipped cream.
In many ways, this is the perfect drink for anyone who prefers a sweet beverage in the morning, as it promises to provide enough of a sugar rush to get you through the rest of the day.
While this drink may look similar to a vanilla latte, the lack of coffee can rob the beverage of its richness, leaving you with a sweet and syrupy drink that some may find overpowering. So you have been warned.
Caramel Ribbon Crunch Creme Frappuccino
This beverage is one of four caffeine-free frappuccinos currently available at Starbucks and is widely considered to be one of the sweetest drinks on the menu.
And while its rich taste may be too much for some, it also remains one of the most popular recipes that the company produces.
Featuring six pumps of dark caramel sauce, a venti caramel ribbon crunch creme frappuccino also comes complete with a squirt of whipped cream and a caramel crunch topping.
So if you consider yourself a caramel enthusiast, this may be the perfect drink for you.
Like our previous entry, the sugar rush on this drink is enough to keep you active throughout the day, with the beverage essentially taking the form of a dessert in a cup.
Iced Passion Tango Tea
If creamy drinks are not your thing, then you can purchase from a range of different low sugar options, which include fruit juices and flavored waters.
For example, this iced passion tango tea is the ideal choice for any early bird who prefers to start their day with a refreshing and healthy boost.
Boasting a blend of hibiscus, lemongrass and apple – this hand-shaken tea also features hints of cinnamon and liquorice, which come together to create an aromatic experience that contains no sugar or caffeine.
The final result is a fruity drink that promises to transport you to white-sanded beaches and tropical rainforests.
While this beverage may not contain any caffeine, it is enough to keep you feeling fresh and healthy during the day.
Strawberry Creme Frappuccino
When it comes to delicious caffeine-free beverages, you can never go wrong with this strawberry creme frappuccino.
Distinguished by its delicious taste, this is yet another Starbucks classic that essentially takes a dessert and transforms it into a sweet and creamy drink.
Unlike other frappuccinos on the menu, this offering is made using a blend of strawberry puree, milk and ice – making it the only frap that uses actual fruit products.
When the drink has been blended, it is usually served with a mountain of whipped cream and strawberry sauce, which makes it one of the more decadent options to choose from.
While this particular drink has yet to reach the popularity of its caramel counterpart, it still remains one of the top five caffeine-free products available at Starbucks.
So why not try it out the next time you are in the mood for something smooth and fruity.
Hot Chocolate
Is there anything better than chocolate? We don't think so and it seems the patrons at Starbucks agree, as the company's signature hot chocolate also ranks as one of the most popular caffeine-free beverages on the menu.
Ideal for chocolate lovers, this hot beverage combines steamed milk with vanilla and mocha-flavored syrups, resulting in a sinful concoction that is then topped with whipped cream and a drizzle of chocolate sauce.
While we prefer to order this drink during the festive season, this does not mean that it can't be purchased year-round.
In fact, hot chocolate is the obvious alternative to tea and coffee, even though it may not be suitable for patrons who prefer a light and refreshing drink in the morning.
Mint Majesty
This delicious herbal tea is the perfect choice for any patron hoping to sample something hot and healthy, with the drink now being considered one of the most popular caffeine-free options on the menu.
Sporting a heady combination of spearmint and peppermint leaves, this tea is also infused with lemon verbena, which is a leafy plant known for its strong citrus flavor.
While the ingredient may not taste exactly like lemon, the combination creates a strong perfume taste, which contains hints of mint and fruit.
Unlike other hot tea options, this beverage contains no caffeine and no sugar, which also makes it a great choice for any person hoping to maintain their diet and watch their figure.
Caramel Apple Spice
As we previously mentioned, you can now purchase your steamed apple juice with a creative twist, as demonstrated by this delicious caramel apple spice.
Made using steamed apple juice that has been combined with five pumps of dole cinnamon syrup, this juice comes topped with a scoop of whipped cream and a drizzle of caramel sauce.
However, it is important to note that this drink is much sweeter than it sounds, which makes it the ideal choice for any patron with an insatiable sweet tooth.
Perfect as a hot drink during the fall, this beverage is completely caffeine-free and combines the flavors of autumn into a single cup.
Cinnamon Dolce Creme
This cinnamon dolce creme is yet another steamed milk beverage, which is surprisingly delicious and perfect for the festive season.
Boasting a sinful combination of steamed milk and five pumps of dolce cinnamon syrup, this beverage can be served with a topping of whipped cream, as well as a handful of cinnamon sprinkles.
Dolce is essentially the Italian word for sweet, which means this drink offers a rich and spicy alternative to your morning coffee.
In our personal experience, anything with cinnamon and milk is a winner, with the beverage itself recalling a caffeine-free chai latte.
Vanilla Bean Creme Frappuccino
If you prefer your morning beverage to be sweet and creamy, then you will simply adore this vanilla bean creme frappuccino, which can be purchased as a cold alternative to the vanilla creme.
This frappuccino features a refreshing combination of milk and ice, which is then flavored with three scoops of vanilla bean powder.
Once the ingredients have been whisked into a slushy mixture, they are topped with a thick layer of whipped cream and garnished with a handful of vanilla sprinkles.
In many ways, Starbucks has become the best establishment to purchase vanilla-flavored milk, which offers caffeine-wary patrons the chance to sample something tasty on their way to work.
However, if you would still prefer your frap with a hint of coffee, then you can ask for a shot of espresso on top.
Peach Tranquility
What makes this peach tea stand out is its amazing flavor, which strangely does not invoke the traditional taste associated with peach-flavored iced tea.
Instead, the peach tranquility is a hot beverage that is made from peach, candied pineapple, chamomile blossom, lemon verbena and rose hips, which all come together to make a refreshing and tasty tea that is bursting with sweet and floral notes.
In many ways, this fruit tea is the perfect pick me up on a cool summer's day, with the drink itself boasting no caffeine or added sugar.
Iced Passion Tango Tea Lemonade
Now, this may feel like deja vu, but we promise this is a completely different beverage from the one we previously mentioned – well, sort of.
Essentially, this is the same drink as the iced passion tango tea, except it combines the classic ingredients with a hand-shaken lemonade.
Sporting hibiscus, lemongrass and apple, this drink also contains powerful hints of passion fruit, which are then poured into a cup and served cold.
The final result is an ice-crackling and bubbly drink that makes for a unique alternative to your morning cup of joe.
While some people still prefer the original recipe, the addition of lemonade does make this drink a game-changer, as well as the perfect addition to a hot summer's day.
Iced Guava Passionfruit Drink
Unfortunately, the next drink on our list is a summer exclusive, which means it is not available year-round. So if you want to sample it for yourself, just keep your eyes open and you may get the chance.
Distinguished by its unique combination of tropical flavors, this drink blends guava juice with pineapple and coconut milk, before being infused with six pumps of pineapple and ginger syrup.
While this is yet another sweet offering, the distinctive and refreshing taste will leave you wanting more.
Of course, one of the best things about this beverage is that it is completely caffeine-free, although you can purchase a green tea variation if you still need your morning fix.
White Chocolate Creme Frappuccino
Yet another member of the frappuccino family, this delicious and creamy beverage combines white chocolate and mocha sauce with a blend of milk and ice, before being topped with a decadent vanilla cream.
While this drink remains one of the more basic frappuccinos on offer, its simplicity is enough to produce a tasty beverage that resembles a cold hot chocolate.
Unfortunately, this drink does not come with any add-ons, which is another reason why some may find it boring or lacking in substance.
Seeing how low this drink is on our list, you can imagine that it remains one of the more niche offerings on the menu.
Pistachio Creme Frappuccino
Following the Italian tradition of putting pistachio in just about anything, this frappuccino is made with a blend of milk and ice, which is then infused with two pumps of sweet pistachio sauce.
Topped with a mountain of whipped cream, this drink also comes with a garnish of salted brown butter, making it one of the most unusual concoctions that Starbucks has to offer.
Because of its strange combination of flavors, this frappuccino often ranks as one of the least popular on the menu, which is a shame when you consider just how delicious it can be.
While some people may find the drink unappealing, anyone who has sampled pistachio gelato will love this drink and everything it stands for.
So if you are the kind of person who likes to try something new, you should definitely add this beverage to your list.
Lemonade
When it comes to describing this next beverage, there's not a lot we can do. After all, it's just lemonade and we all know what lemonade is like.
Perfect for hot summer days, this beverage comes with a mouth-watering sourness, which can sometimes be overpowering if you prefer your drinks to be sweet.
However, one of the most interesting things about this beverage is that it is probably one of the healthiest options on the menu, as it does not contain any syrups or dairy.
So if you want a low sugar and caffeine-free drink, then there's no better place to start.
Blended Strawberry Lemonade
While there is little we can do to make lemonade sound exciting, this next beverage puts a creative twist on the classic drink, infusing it with strawberry puree and creme frappuccino syrup.
The final result is a refreshing drink that is thicker than its traditional counterpart, with the sourness now being overpowered by an intense and fruity sweetness.
Commonly served in a cup over ice, this drink is a great choice for any customer hoping to put a unique spin on an otherwise boring order.
Unfortunately, this drink does rank low on our list because of its very nature, with the cold and zesty beverage making for the perfect accompaniment to a hot and sunny day.
Bottle Fruit Juice
While this may sound like cheating, Starbucks does offer a wide range of bottled fruit juice, which can be selected from the in-store refrigerator.
Each of these drinks is made using fresh fruit and every single one of them is caffeine-free.
Of course, the notion of putting espresso in fruit juice is simply ridiculous, which is why each juice remains as natural as it can be, especially with the addition of sugar and preservatives.
So if you want something quick and cold to drink, just remember to take a look at the chilled section before heading to the counter.
Now we know these juices have ranked pretty low on our list, but you need to remember that most people go to Starbucks for coffee and not pre-made fruit juice that isn't even fresh on the day.
Milk
When it comes to placing your Starbucks order, it is also possible to purchase a simple glass of milk, which contains no caffeine and very little sugar.
In fact, you can even order milk that has been infused with different flavors, with chocolate and vanilla being the most popular options.
Neither of these flavors contains caffeine, which makes them the perfect choice for a child or coffee-opposed adult.
Of course, the type of milk you purchase is completely up to you and your preferences, as Starbucks should have a large selection of milk to choose from, whether that be whole milk or oat.
Flavored Sparkling Water
Personally, we don't see the appeal of sparkling water, even though it remains a popular choice among Starbucks customers.
This is probably because of the range of sparkling water that the company offers, with some even being infused with refreshing and fruity blends.
For example, some Spindrift products are known to be caffeine-free, with the raspberry lime and grapefruit options offering some of the best results.
However, this does not mean that all the sparkling water is caffeine-free, as some will contain green tea to enhance their flavor. So make sure to read the label before you take anything to the register.
Water
If you need to be careful with your caffeine intake, then there's no safer option than a glass of water. Not only is water a great and healthy choice, but Starbucks also offers 3 different types…
You can either ask for a glass of water from the tap, purchase a bottle of water from the refrigerator or buy some Hawaii Volcanic water, which boasts a more natural and exotic alternative.
Of course, the only downside is that water can be very boring, which is why it has ranked as the final entry on our list.
So if you want to try something else and are unsure of the caffeine it contains, just ask a member of staff to outline the ingredients. We're sure they will be happy to help.
Starbucks Drinks That Contain Caffeine
While we were making our list, we discovered that a substantial amount of Starbucks products contain caffeine, with some even surprising our team of researchers.
So to help you understand what products you should avoid, we have rounded up some notable beverages in the section below:
Green teas
Frappuccinos (except the ones we previously mentioned)
Chai lattes
Cold drinks
While most of these drinks contain caffeine, some boast a higher amount than others, with the majority of products featuring 20 – 40 milligrams of the substance.
And while this may seem like a small number, allowing even a tiny amount of caffeine into your diet can have a profound effect on your physical health.
That is why we recommend asking for assistance when choosing caffeine-free products, whether by asking the staff at your local branch or visiting the official Starbucks website for further information.
Caffeine Reference Scale
If you are still unsure how much caffeine is in the products you are consuming, then we have provided the following scale, which outlines the amount of caffeine in several well-known beverages.
This scale can be incredibly helpful if you are pregnant or suffering from a medical condition that requires constant measurements of your caffeine levels:
Starbucks caramel macchiato: 150mg
Starbucks coffee frappuccino: 95mg
Espresso shot: 75mg
Can of diet coke: 46mg
Can of full-fat coke: 34mg
As you can see, there is a lot of caffeine in the products we consume, which is why you will need to purchase one of the beverages on our list if you are looking for caffeine-free products.
Otherwise, you can visit the official Starbucks website to learn more about the nutritional value of each drink.
Most Popular Starbucks Drinks
Of course, the Starbucks menu can be very extensive and that's without the inclusion of the secret menu or seasonal offerings. So if you want to know which beverages are considered to be the most popular, we have compiled a list in the section below.
These entries are in no particular order and range from caffeine and caffeine-free products:
Vanilla latte
Pumpkin spice latte
Hot chocolate
Iced white chocolate mocha
Cinnamon roll creme frappuccino
Chai latte
Java chip frappuccino
Green tea creme frappuccino
Lemon bar creme frappuccino
Caramel cocoa cluster frappuccino
So if you do not have to track your caffeine levels, or are happy to consume a small amount, these are considered some of the best beverages that Starbucks has to offer.
Final Thoughts
And there we have it, those were 21 caffeine-free Starbucks drinks ranked by their popularity.
While there are surprisingly few products that do not contain caffeine, we hope that you were able to find this article interesting and that you will use it the next time you are looking for a drink that is low in caffeine and sugar.
Latest posts by Matt Summers
(see all)