When an iced coffee is made just right, it can be one of the most fun, tasty and energizing drinks around. But a badly executed iced coffee can make for a bitter experience for your tastebuds and a miserable drinking experience for you.
That's why places like Dunkin Donuts are so important. The company thrives on a deep knowledge of how to make the perfect brewed cup of coffee (iced or otherwise) and has taken this to their iced signature drinks.
The latte from this collection is highly sought-after and it's very easy to see why!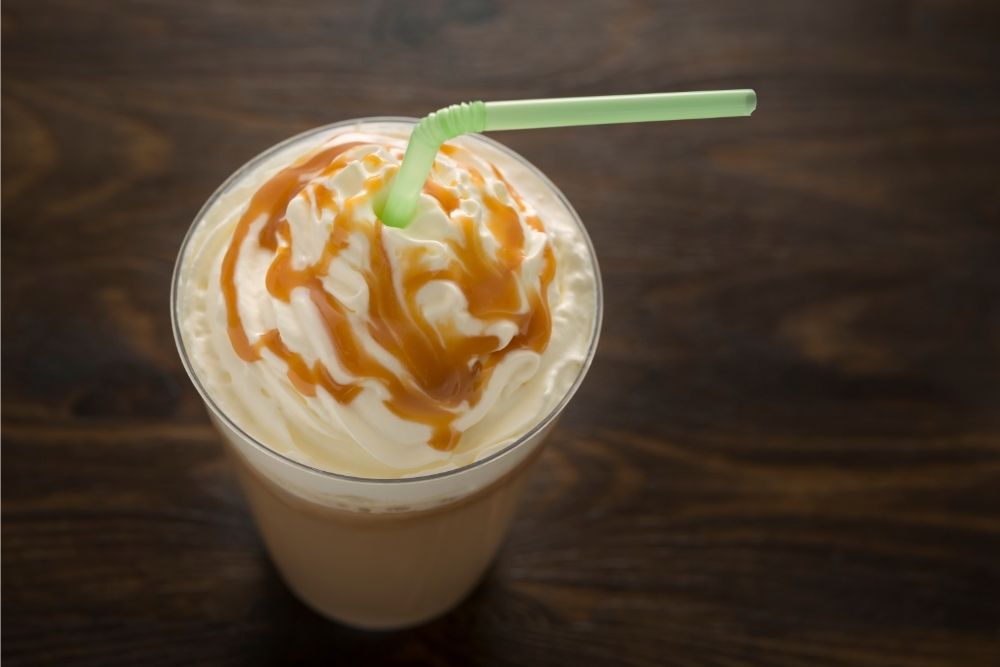 But if you don't want to spend your hard-earned cash buying Dunkin coffee every day, the copycat recipe in this article is perfect for you!
Not only is it inspired by the delicious flavors and creamy consistency of its Dunkin Donuts counterpart, but you don't necessarily need barista-level skills to recreate this incredibly sweet drink. You can also make and consume it from the comfort of your own home.
If this sounds like something you'd be interested in, feel free to read on!
Making The Perfect Iced Coffee
Dunkin Donuts coffee is potent, but not overpowering. This is down to their incredible premium quality house coffee blends that offer a perfect tasting drink each time.
Generally, iced coffee isn't difficult to make. All you need is strong coffee, milk (or a milk substitute), and ice – and the motivation to make the perfect iced drink.
However, a small spoonful of coffee creamer thickens the latte mix and adds a stunningly smooth flavor that really cannot be replicated.
But to achieve a drink that is similar to Dunkin's version, it's a good idea to dry shake ingredients to achieve a frothy texture for your drink.
But don't go cheap on your coffee otherwise the final results won't match your expectations! Instead, you should invest in high-quality ingredients to achieve a taste that more closely resembles the Dunkin Donuts Iced Signature drink.
Gather Your Ingredients
Buying all the necessary ingredients for this copycat iced latte recipe in one go can be quite an expensive task. And yes, it may cost you a lot more than simply purchasing a drink from Dunkin Donuts. But in the long run, it'll save you some serious coin!
Purchasing individual ingredients and putting them together in the perfect blend can also be quite time-consuming – especially if you don't know what you're doing. But we're here to help! Below, we have listed the necessary ingredients and the best way to make this drink.
Essential Ingredients
1 tsp coffee creamer
1 oz espresso (room temperature)
1 cup water
1 cup of ice
1 ½ cup milk
Optional Ingredients
2 tbsp whipped cream (or as much as you want)
¼ teaspoon cinnamon
½ teaspoon sugar to taste
Other toppings, including crushed Oreos or dried fruits
Method
1. Brew Your Coffee
To make the ideal latte you need to begin with a strong coffee. Brew a strong espresso as normal using 6 tablespoons of coffee grounds per 1 cup of water. Do this in whatever method you prefer.
2. Adding Ingredients Together
In a mason jar with a lid (or a cocktail shaker) add your coffee, milk, and some creamer to create the base for your sweet iced drink. Shake vigorously until the mixture is frothy.
3. Assemble Your Latte
Fill your glass with ice and pour the iced latte over it. Top with whipped cream and flavor with your favorite toppings. From a sweet caramel sauce and cinnamon to crushed Oreos, the garnishing opportunities are endless with this incredible iced coffee.
4. Enjoy!
And you're done! Now you can enjoy a top-quality iced latte without having to leave the comfort of your own home.
Final Say
And that's all there is to it! This copycat recipe of a Dunkin Donuts Iced Signature Recipe will help you to create a drink that is just as delicious as that from the coffee giant itself.
Feel free to make this drink for yourself or as a way to impress your friends when they come to visit. Either way, it's a sweet treat that can be enjoyed at any time of the day!
Latest posts by Matt Summers
(see all)